MYSTERY'S CHOIR
This film is archival only and not for sale.
This page serves to preserve Ji Strangeway's most personal and seminal work.
SYNOPSIS
A 15-year-old Daena is lost in love and caught in a magical and sexually-charged relationship with a much older woman. She runs away from a broken home to find that life outside is no better when bereft of love.
MYSTERY'S CHOIR is a pioneering film that challenged cinematic conventions and social taboos by depicting unsimulated, intergenerational lesbian sex. Shot in 16mm, the film's avant-garde style blends narrative fiction with mythical, dreamlike imagery. Originally produced and filmed in New York in 1999 by Infinity Films New York, MYSTERY'S CHOIR was digitally remastered and re-released in 2009 by Protéji Pictures, Los Angeles.
Genre: Coming of Age,  Romance, Lesbian, LGBTQ, Fiction, Drama, Avant-garde, Experimental Art-house
Click here: Official Trailer | Uncensored Trailer (Mature. Audiences 18+ only)
---
Reviews
An Adolescent's World From the Inside – by Tom Gunning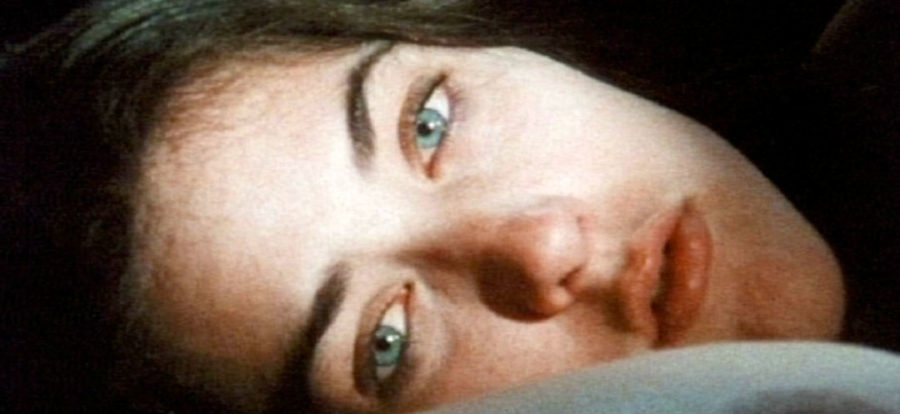 Mystery's Choir is the first feature film by an exciting and daring young filmmaker, Ji Strangeway. Few first films have been as formally innovative so frankly honest. Mystery's Choir manages to be simultaneously touching and sensual as well as disturbing and painful.
At one point Daena, the film's adolescent protagonist, speaks in voice-over as she walks down a crowded New York City street, musing about reality being what takes place on the inside: "There are two worlds…interior, exterior; in the interior is really where your experience is real. But in the exterior, nothing seems real." Never has this typically adolescent thought and experience been made so palpable by a filmmaker.
Strangeway alternates in the film between extremely stylized sequence of Daena's homelife and starkly realistic and unflinching scenes of her passionate lovemaking with Chelsea, her older lesbian lover.
The scenes of home life use disruptive techniques of lighting, setting and casting to portray an adolescent's nightmare of being trapped by adults that don't understand her and that she can not experience as "real": a mother played by a young man in drag, a father played by a very old man (who is constantly searching for the bathroom, or asking if his daughter loves him in a querulous and unsettling voice).
Sets, lighting, performance and costume all capture an entrapping and threatening world. In contrast, the scenes of love making seem to dissolve the space around the lovers with an explosively sexual heat and intimacy. Although very explicit, these scenes avoid being either coy or pornographic. They are firmly embedded in the physical, but the women's bodies are neither glamorized nor mocked. Instead, the rhythms of desire flow freely (and are not confined by cliches of acted-out phony sexual climaxes) and the camera itself seems to caress the flesh before it.
Bodies are awkward in their desire, fervent in their passion, but never made inhuman in the way they often are in pornographic images. Likewise a scene of a phone call from Chelsea to Daena at home captures the way hearing her lover's voice changes her sense of reality, the intimate presence of the lover actually on the other end of the line, seemingly right there, blowing in her ear, embracing her body.
Strangeway has an uncanny sense of imagery. The spastic rhythms of a mobile fan, the fluttering of papers under a glass paper weight, the way a hand releases the paper sheets into this mechanical breeze—all these images perfectly express Daena's feeling of dealing with a relationship she can't be sure of holding on to. Nothing here is simplified and the long lasting takes where the characters stare into the camera seem to emphasize their enigmas and the ambiguity of their feelings, rather than define them for us. Strangeway presents passion and preserves mystery.
The final scenes around the break up the lovers deliver a true sense of abandonment and betrayal without judging either of the characters. We don't always know all the aspects of what is happening in this film, but Strangeway brilliantly lets us in on how it feels, on the pain and bewilderment involved. This feeling touches you in a way few films do, not with sentimental cliches, but with sensual passionate scenes and a brilliant original portrayal of an adolescent's world—from the inside.
---
Tom Gunning writes for the Criterion Collection and is a renowned film historian. He is a distinguished professor of Art History and Cinema and Media at the University of Chicago. Gunning has published over a hundred articles on film history, especially early cinema and the Avant Garde film, and lectured around the world. His writings have been translated into over a dozen languages. He is author of D.W. Griffith and the Origins of American Narrative Film (University of Illinois Press), and The Films of Fritz Lang: Allegories of Vision and Modernity, published by the British Film Institute.
---
REVIEWS
I wish that more films felt as intensely personal as Mystery's Choir, a daring often surreal-looking work – Time Out New York, Film Review
Some of the most beautiful and explicit sex scenes in lesbian films – Philadelphia International Gay and Lesbian Film Festival
It's like nothing I've ever seen before– Joan Jett , Rocker
Strangeway has an uncanny sense of imagery – Tom Gunning, Film Historian
An unfettered filmmaker with considerable potential – TV Guide On-Line
What we really needed after that film was a long cold shower – HX/HER Magazine, NY
Hypnotizing and Controversial! – New York Blade News
Skillfully brings across the inner world of a girl in love with an older woman – Shout Magazine, NY
Most definitely an art-house delight! – Time Out New York (Events)
Digs deep into lesbo-erotic depths and emerges with reels of pristine dirt that will tickle those who are jaded while liberating others who are repressed. – Mike Kuchar of the "Kuchar Brothers" /Underground Filmmaker of Sins of the Fleshapoids
SPECS
RT: 65 min. (Feature)
Year: 1999 (re-released 2009 by Protéji Pictures)
Country: US
Format: 16mm, Color, Sound
Production: Infinity Films New York
CREDITS
Writer, Director, Producer: JI STRANGEWAY
CAST
Daena: DEIDRA CURRIE
Chelsea: JILL REPPLINGER
Daena's Mother: JACK PRETZER
Daena's Father: WILLIAM HUNT
CREW
Director of Photography:
JI STRANGEWAY
Additional Camera:
FRANK BARRERA
DAVID FORD
Assistant Camera:
ILLYA CHAIKEN
GORDON CHOU
PAULA HALTON
DAVID PANCAKE
CHRISTOPHER SCAPPATICCI
Sound:
SHIRAK AGRESTA
PAULA HALTON
KRISTEN LAUREN
DAN MADDEN
CIRO SILVA
Boom:
MICHEL TIKHOMIROFF
KRISTEN GRANEY
MARK RODRIGUEZ
Film Editor, Sound Design: JI STRANGEWAY
Sound Mixer: SHANNON PENGELLY
Set Design: DEIDRA CURRIE
Set Construction: JOE CHECCO
Ji Strangeway's Assistant:
ELIZABETH SKOGLUND
Production Assistants:
PETER KENNEDY
MACIEL MARQUEZ
Filmed in New York: Manhattan, Catskills, and Westchester County